Introduction by Don McMahan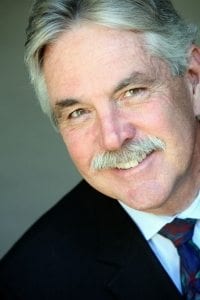 FlyCloud Consulting Inc, (Outsourced VP of Sales) 
Branding is so important for the success of a company and a sales team, that I decided to add a second guest blog on branding before moving on to the other marketing blogs. My good friend and branding expert, David Wisnom III continues the branding discussion with another professional perspective to consider.
Don McMahan is the President of FlyCloud Consulting, and provides outsourced sales leadership for companies generally $5M and up across all industries. Don is also a specialist in Sales Team Compensation and has recently developed a suite of engagement services for the B2B side of the cannabis industry. (don@flycloudconsulting.com)
BrandDiagnostic is a proprietary methodology to evaluate the health of your brand's DNA and market relevance based on the four dimensions of BrandRelativityTM.  Crafted through years of experience of creating, building and revitalizing brand value, we have found that the best process to evaluate brand DNA is to dissect the brand from four perspectives: Internal, Competitive, Customer and SightCast's objective evaluation.  The following outlines the steps required recommended to conduct a BrandDiagnostic.
Kickoff & Planning Session
The first step is to conduct a kick-off meeting and briefing with the core management team (or brand project steering committee).  The primary objective is to establish business parameters: identifying key contacts and scheduling milestones, discussing miscellaneous procedures and clarifying the program expectations and decision makers.  The second objective is to review a detailed briefing on the history of the brand.
Business Document Review
The next step is to review the most current business and marketing strategies – these may include a business plan, marketing plan, mission and vision statements, competitive overview, existing consumer or b2b research and any other relevant information.  This review will help you in identifying key areas to examine further in creating better relevance, clear differentiation and competitive advantage. 
Management Team and Staff Interviews
Based on the insight derived from the briefing and business document review, conduct one-on-one interviews with key stakeholders – "those who are tasked with implementing and managing your company's vision and mission".  These should include your executive management and key players in marketing, product management and sales.
When appropriate, we recommend including the board of directors – partly for insight and partly for political buy-in.  Inclusion is a powerful thing.  In addition, interview selected customer facing employees in sales, implementation and customer service.  The goal is to learn personal perspectives of the organization and its vision, the competition and potential competitive advantages (and weaknesses).  The inclusion of staff encourages ownership in the program and implementation.  Look for what makes your brand relevant to customers and why are your company, product or service is unique.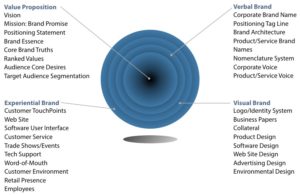 Employee Survey
Depending on the size of the organization, and distributed teams, you can conduct a simple online survey with staff about the brand attributes, points of differentiation and what is missing.  The inclusion of staff also encourages ownership in the program and implementation.
Agency interviews & Communications Audit
Schedule interviews with your existing advertising and PR partners to gain their personal and professional perspective on your brand, the marketplace and competition.  Compile samples of key communications materials, advertising, and press releases and website to review for positioning, voice and tone.  Examine design consistency, brand identity system, user experience, functionality, messaging, voice and tone, etc.…
Retail/Facility Audit
If you have a retail, branch presence or corporate facility, digitally document a variety of markets, locations, channel partners and environments to better understand the customer experience, messaging, identity.
Competitive Analysis 
Perform a review and analysis of your key competitors' complete product/service offering both online and onsite presence, positioning, messaging and voice and tone.  Additionally, evaluate the brand footprint – this is the psychographic region where their brand lives in customers' and prospects' minds (positioning) – where does or should your brand overlap. 
Customer Interviews/Research
Based on the insight explored in the previous steps, it is critical to interview several your long term and new customers to gain different external perspectives of your brand.  These interviews can include one-on-one's, focus groups and or surveys to benchmark brand perceptions.
State of the Brand Presentation
Upon completion of the BrandDiagnostic process, curate and analyze all the data to look for alignment and gaps of internal brand perceptions against external perceptions.  What are the key findings – alignment, fragmentation, gaps, opportunities, messaging, etc.… And, what are the implications – customer confusion, lack of understanding, poor customer service…  The compilation of this analysis is a snapshot of your current brand – the State of the Brand.  This should be compiled into a presentation and shared with the executive management team and in some cases the entire company in order to correct problems and praise the positives.  Depending on the scope of the engagement, the presentation can include: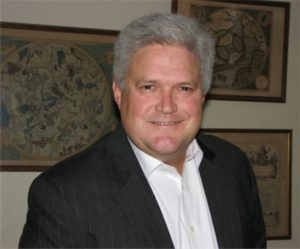 David Wisnom III is the Founder & Chief Strategist of SightCast Inc., a full-service brand consultancy. I create brand value through helping companies with positioning, naming, identity, and messaging.  David is also the co-author of Before the Brand: Creating the Unique DNA of an Enduring Brand Identity. To learn more about how he can assist you with your value proposition, brand strategy or marketing, please contact him directly: wisnom@sightcastinc.com or visit www.sightcastinc.com.