Introduction by Don McMahan, Outsourced VP of Sales, Flycloud Consulting, Inc.
This week's marketing series guest blogger is "usability" expert and friend Cindi Hazel who is the CEO of Highdive, a web marketing company focused on how effective your website actually is to your customers. (what a novel idea). Cindi's firm uses customer engaged testing and tools to measure the effectiveness of either your website or your app for the best possible results from all your marketing efforts.
A website your customers both use and enjoy is the first step in more successful sales engagements and also sets the stage for the repeat visits and ongoing sales all companies long for. Highdive is one of only a few companies I have seen that deliver this expertise and they have a long list of successes to show you just how important this often overlooked part of web design can be to your business…
 Cindi Hazel, Highdive…
The Fantasy
OK, you're going to make this website thing happen. You hire a highly-recommended web design firm with programming skills. Your team gathers (and painstakingly edits) your copy.  You write blog posts.  You invest in an AdWords campaign.  You post on Facebook and LinkedIn and Twitter and Instagram — you tell your coworkers, friends, and associates to like your posts and pages. You 'go-live'.  You wait.  And then it happens – you start to see traffic coming to your site.  Success!  All the effort has paid off.
…But wait, hold on… nothing new seems to be happening in your business. You look at your web traffic, and you see that you're getting a lot of new visitors.  But those visits aren't resulting in sales, nor phone calls, nor appointments. What's happening???
What's Happening???
_______________________________________________________________________________________________
               

"Design is not just what it looks like and feels like. Design is how it works."



                                                                         —  Steve Jobs
_______________________________________________________________________________________________
There definitely is a misconception out there: "If you build it, they will come" – meaning; as long as you have a website or app, and have invested all the necessary money, time, and effort into putting your business out there, then you'll have a return on your investment.  You'll get sales.
So, what's wrong here??  Why isn't it happening??
Something is not working.
When Expectations Meet Reality
Design is one thing, but what about all the other stuff?  Have you ever been on a site that takes forever to load?  Or how about this:  you're just trying to find something quick, and you can't, for the life you, figure out where it is?  Ugh!  I have. It feels like an absolute waste of time to me. It is so, so, so frustrating. Or what about the corporate website that is not optimized for screens of all sizes – desktop, tablet, and phone?  Either it's not designed to respond to a mobile screen, resulting in the text so tiny you'd need a 10-year-old's eyes to see it, or the information you typically seek while on your phone is far down at the bottom of page. Again, so frustrating.
While I may not (always) say it out loud, it does make impression on me. Not making it easy for me to find information makes me feel like the company doesn't really have it together, that they don't have a clue, or worse, that they are creating their online presence for their benefit rather than mine.  Whether they don't 'get it', or they don't care, is unclear.
Still, it makes an impression.
_______________________________________________________________________________________________
"More than 83% of Internet users are likely to leave a website if they can't find what they're looking for, and 58% of visitors who experience usability problems won't come back"
_______________________________________________________________________________________________
It's possible that your website is not current and needs a refresh.  It is also possible it is not hitting the mark with the people you're trying to reach. In my profession, I see many websites out there:
Some that are beautiful (award-winning, even), but they just don't do anything
Some that are clearly built by the business owners or staff: full of internal vernacular, acronyms, a jumble of information about 'who we are' and 'why we're so great'.
Those that are developed by the IT or engineering staff? You need a map to get out. And so technical and cold!
Or one that is just an assault on your eyes and ears — everything flashing and moving and talking…all the 'bells and whistles' that the designer could think of. Just too much.
And then there are the websites designed and developed by the novice designer, 'just to get something out there'….
Your website is a tool for and a reflection on your business.  And if it's not working for your customer, it's not working for your business…
________________________________________________________________________________________________
"Poor customer service experiences are expensive. The cost of failing to meet customer expectations is high: 75% of consumers move to another channel when online service fails, which can cost millions of dollars."
________________________________________________________________________________________________
Who Really Are Your Users, and What do they Want??
"But wait", you say.  What about those companies who MOSTLY have it together?  Why invest extra time and money when the website is working for most of their clients most of the time?  Why make the extra effort?  Consider these stats… 
Customer Expectations:
Unhappy Customers:
Customer Retention
A 2% increase in customer retention has the same effect as decreasing costs by 10%. (Leading on the Edge of Chaos, Emmet Murphy & Mark Murphy)
The probability of selling to an existing customer is 60 – 70%. The probability of selling to a new prospect is 5-20%.  (Forbes, Marketing Metrics)
A 5% reduction in the customer defection rate can increase profits by 25 – 95%. (Bain & Company)
It costs 6–7 times more to acquire a new customer than retain an existing one. (Bain & Company)
The one thing that many companies miss, unfortunately, is that, before they create their company website, they didn't talk to the people that they're trying to draw to their business.  The result?  An unfortunate (and wholly preventable) disconnect.  In fact, according to IBM's Global C-Suite Study, 80% of CEOS think they are delivering an exceptional customer experience, where a whopping 78% of customers stated that the average brands do not understand them as individuals.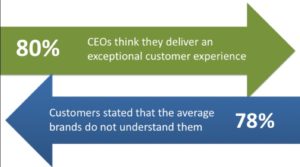 Usability is a growing necessity in business website design and development. Usability is essentially ensuring that the (online) presence you deliver is one that resonates with those you are trying to reach. One that is effective for them, that is free of friction and frustration, and is efficient in helping them reach their goals. One that serves their needs.
And remember, your users are not just external ones. Your website is (and should be) a tool for internal customers as well. Your salesforce, your administrative team, your account managers…. If your website is not usable for them, if your sales team is not proud of the brand you present and how your product or service is portrayed online, they won't use it.  So what's the purpose?
Talk to Your Customers (So you Know How to Talk to your Customers)
There are multiple ways that one can make their website or application more usable, more effective, less frustrating.
Goal definition.  Why do you do what you do?  Not what or how, but why?  (See Simon Sinek) And how are you going to use your online presence to accomplish that goal?  What does it cost to acquire a new customer?  To retain one?  What is the lifetime value of a customer?  What would a 10% increase in conversion mean to your business?  How about a 20% retention rate?
Target audience definition. Where do your customers live? How old are they? Are they male or female? Is your user the decision maker? What type of education do they have? How computer savvy are they? What motivates them?  How much money do they make? What are their religious beliefs? Do they have children? Do they work full-time? What do they love to do after work? What are they afraid of?  What makes them giggle?  Everyone is different, but many have common goals, common ways of thinking and organizing, common life experiences, common approaches to solving problems.  Believe it or not, by really clarifying the audience you're trying to reach, and by making a site that suits them, you'll have much more success than if you try to be everything to everyone.
Target market analysis. How do you want your customers to see you? Where are they in the lifecycle of interacting with you?  (are they educating themselves?  Are they ready to purchase or book an appointment?)  How did they view your competition? What are the top benefits they're looking for you to provide? The primary services? By understanding what motivates your customers, what around them affects their choices, and what impacts their decision to select you, you will better be able to stand out amongst the fray, because you will be speaking to them, and their needs, and your vision will be clear.
________________________________________________________________________________________________
"If you don't talk to your customers, how will you know how to talk to your customers?"
________________________________________________________________________________________________
User Experience Design
Designing an experience FOR your target audience will pay off in spades.
Customer journey mapping. What does your target audience think, feel, and do at each of the touch points that they interact with you? Before they know about you, what questions do they have? What concerns do they have? While they are interacting with you, what are they looking for? What are they skeptical of? What are they excited about? Are they looking for other customers to demonstrate what it's like to work with you? After the sale is complete and you're working with them on an ongoing basis, do they want to stay in touch with you? What's happening in their lives that your service can help? By understanding fully what customers are thinking, feeling, and doing at each step of the process through which they integrate with you, you will better be able to prioritize the information in the locations where they're seeking it. They will feel in control and that you understand them and care about their needs.  Learn from them, and then design clear calls to action so that your customers know what to do next (with ease).
Focus group. Focus group are the proactive approach to usability. During a focus group, you can ask individuals or a group for situations where they might encounter you.  You can ask for their expectations.  You can show different design ideas and get their impressions — really get their feedback and let them tell you what they think before you sink a ton of money into an approach that frankly will fall flat.   It's also an opportunity to have them help you organize information into buckets by which they (your TARGET AUDIENCE) think. Consider this, someone asks you to take a picture with their smartphone, and you can't find where their camera icon is.  (You're flustered and embarrassed.  And what are they THINKING putting the camera under the Social folder rather than the Photo folder where it belongs??)  It's not that their organization is wrong, they just organize differently then you.  Asking your target audience to help you organize content in a way that makes sense to them certainly can make your menu, your calls to action, and visibility of tools easier to find (read: less frustrating) and more relevant to their situation.
Usability studies. Usability studies are the reactive approach to user experience. By observing the actual individual in your target audience working through actual issues with your company online, you will be able to see your company though their eyes.  You will see where they're looking, hear what they're asking, understand what they're struggling with, observe what they're excited about and/or think is cool.  By observing, documenting, drawing conclusions, and implementing their recommended changes, you're actively taking direction from your users' experiences to make a site that works for them.
Constant monitoring. Pay attention to your users on ongoing basis. Technology is constantly changing, user experiences are constantly changing, competition is constantly changing. You want to make sure you're nimble and responsive to these changes in expectations. Pay attention to your websites traffic statistics, ask questions on a regular basis.  Add new tools and monitor the attraction that those tools hold. Be responsive and attentive.  If you do so, you will truly be servicing your clients.  And they'll thank you for it.
________________________________________________________________________________________________
"Nearly three quarters (73%) of companies currently not conducting user experience testing will be doing so in the next 12 months."
________________________________________________________________________________________________
Striving for a positive customer experience is worth the effort.  A positive customer experience makes them feel appreciated, and whether they are conscious of it or not, results in them relating a positive feeling with their experience with you.  You make them happy.  And what happens when customer are happy?  They stay longer, they spend more money, they keep coming back, and they tell other people about it.
Cindi Hazel, CEO of highdive
About the author: Cindi Hazel
Cindi Hazel has worked in the software engineering field for over 20 years, focusing on streamlining and automating business processes through development of effective applications and systems. She has provided functional and analytical tools for such global organizations as MCI Telecommunications, Airborne Express, Attachmate Corporation, and Classmates. Her strong development skills combined with her keen sense of business, methodology, and market savvy, led her to establish Highdive, a full-service web production company. Since 1998, Highdive has been delivering customer-driven web tools for the education sector, municipalities, as well as enterprise, mid-market, and non-profit organizations. Highdive is a strategic research consulting firm that works with companies to ensure that every online experience their customer has is a positive one. Through targeted research, we gain an understanding of the goals, expectations and motivators of the specific audience with whom these companies interact. We then design and create web and mobile applications to enhance that relationship. You can reach Cindi at: chazel@highdive.com or http://www.highdive.com/